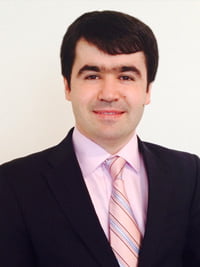 Mustafo Davlatov is an associate at Nazrisho & Associates, P.C. Mr. Davlatov is renowned for successfully representing companies, organizations and individuals with complicated U.S. visa, work permit and green card matters. In particular, he is respected for achieving creative solutions for complex immigration cases.
Deeply involved in all facets of immigration law, Mr. Davlatov is an active member of the American Immigration Lawyers Association (AILA). He currently serves as advisor to the Tajik American Cultural Association and Tajik Community in USA.
Education:
Mr. Davlatov holds an LLM from Stetson Law School. He received his Bachelor Degree in Law with Honors from Tajik State National University. He is a member of the Association of the Bar of the County of New York and the New York State Bar Association.
Additionally, Mr. Davlatov has experience representing clients in corporate, matrimonial, criminal and real estate matters.
Foreign Language Competencies:
Russian, Farsi, Turkish & Tajik
Email: mustafo@nazrisho.com